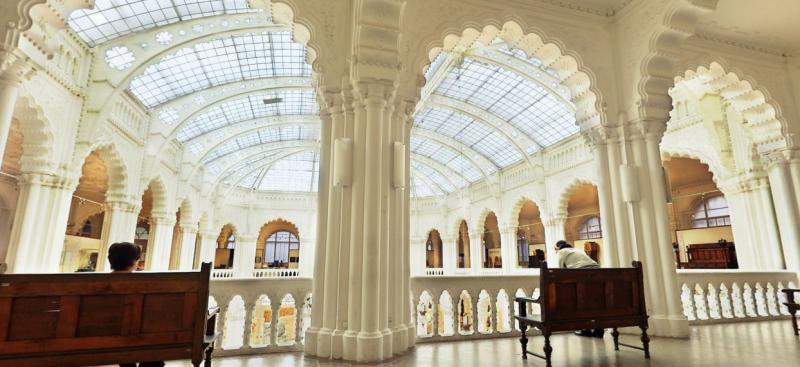 Getting here by public transport
Metro line 3 (blue), Corvin-negyed station
Trams 4 and 6, Corvin-negyed stop
Contact
Address: H-1091 Budapest, Üllői út 33-37.
Phone: +36 1 456 5107
E-mail: send an e-mail
Disabled access
Visitors with wheelchairs can use the courtyard entrance from Hőgyes Endre utca, and there are also a limited number of disabled parking spaces in the courtyard. The courtyard entrance is open during museum opening hours on weekdays; at weekends please ring the bell. Please be prepared to wait 5-10 minutes for a member of staff. Staff provide assistance for using the lift to the ground floor and upper exhibition floors. Access from the ground floor gallery to the glass hall is by stair lift, which Museum staff will help you to use. There is a disabled toilet on the first floor.
 

Tickets

 
Full price

Concession
 Student      group

Adult group

Family

 

Breuer - at Home Again

 

(permanent exhibition)

 

Combination ticket

 

 1 800 HUF

 

 2 200 HUF

 

 2 000 HUF

 

 

 3 500 HUF

 

    900 HUF

 

 1 100 HUF

 

 1 000 HUF

 

 

  1 750 HUF

 

 720 HUF

 

 880 HUF

 

 800 HUF

 

 

 1400 HUF

 

 1 440 HUF

 

 1 760 HUF

 

 1 600 HUF

 

 

 2 800 HUF

 

 3 600 HUF

 

 4 400 HUF

 

 4 000 HUF

 

 

 7 000 HUF

Museum education: 

Group leaders and teachers free
Museum visit with guide HUF 800
Museum visit with guide and activities HUF 1300
School or camp activity, birthday HUF 1700

Concession: for ages 6-26 and 62-70 
Student group: for students in group of more than 15 
Adult group: for adults in group of more than 15 
Family ticket: 2/1 adults + 1 or more children (under 18)  


 

Discounts   
20% off ticket price for every exhibition
Budapest Card
with Ferencváros Card
with Legenda Pass
50% off ticket price for every exhibition
young people (over 6 and under 26)
visitors aged over 62
one or two parents (or other close relatives) accompanying at least two children (under 18)
Free admission (Hungarian and European Economic Area citizens)
children under 6
visitors over 70
visitors with disabilities, with one accompanying person
government officials with ministerial pass
school teachers
holders of membership cards for national public collection organisations with more than 400 members: Pulszky Society, Hungarian Museums Association, ICOM, Association of Hungarian Librarians, Association of Hungarian Archivists.
Friends of the Museum
On Hungary's three national holidays: 15 March, 20 August and 23 October
Registration ticket (HUF 100)
for holders of press card and annual pass
Free rail travel for schools
The conditions for free rail travel changed on 1 April 2013. Details (in Hungarian) here. 
Free admission to permanent exhibition only
on the third Saturday of each month for persons under 26 and for up to two parents (or other close relatives) accompanying children under 18