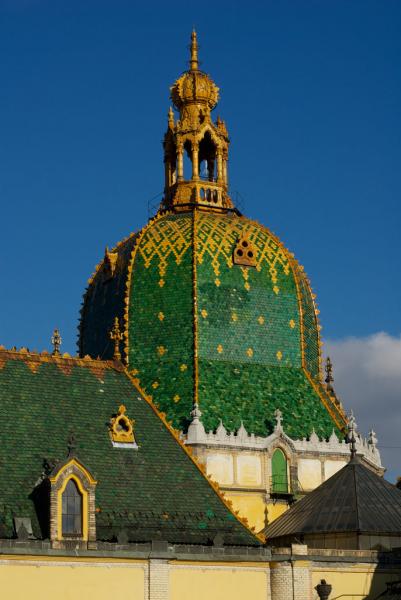 Ödön Lechner's independent pre-modern architecture is on the tentative list of the Unesco World Heritage sites.
In the pre-modern era, when the replication of historic styles had become meaningless, the mastery of stylistic traditions had become second-rate, and architecture's new technical possibilities demanded new forms, Lechner exploited the stylistic vacuum and produced a new independent regional style of construction, anticipating the great individuals of world architecture. By revaluating vernacular motifs, he placed them into the realm of monumental architecture. By searching for a connection between Eastern ornamentation and Hungarian forms he created a distinctive architecture and also enriched universal culture through the artistic philosophy of his art. Through his spirited architectural fantasies and influence on his followers, he created outstanding cultural treasures that demand the attention of all humanity.
The nomination focuses on Lechner's most significant works, which are within the current borders of Hungary.
The Museum of Applied Arts has made a new set of photos of the nominated buildings, in the framework of the EU-funded Partage Plus project. The links below will take you to these photographs (if needed, the language of the database can be changed to English by clicking in the upper right corner of the screen).
Proposed buildings:

A few of the works by his followers (not proposed): Sándor Nagy's studio house in Gödöllő by István Medgyaszay, the School of Higher Commerce on Vas Street by Béla Lajta, the Rózsavölgyi House by Béla Lajta, and the Városligeti Avenue Reformed Church by Aladár Árkay. You can find these and many other Hungarian Art Nouveau buildings in our database of Hungarian Art Nouveau architecture.