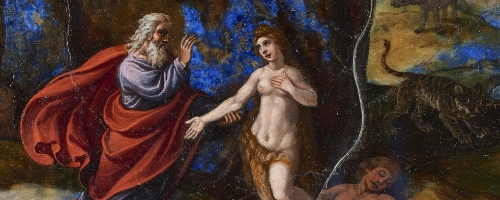 Painted on precious stone – An Antonio Tempesta rediscovered in the collection of the Museum of Applied Arts Budapest
Lapis lazuli, a rare and precious stone from the Middle East, is the raw material of ultramarine, a marvellous deep blue colour of paintings. This prestigious semi-precious stone was used by Antonio Tempesta, a painter active in the early 17th-century Rome, as support of paintings made for aristocratic patrons. Tempesta's paintings on various types of stone are real curiosities. Only three paintings on lapis lazuli survived – one of them is housed in the Louvre in Paris.
This work actually consists of two paintings: both sides of this thin, scarcely one-millimetre thick, translucent slab present scenes from the Old Testament. Both depictions demonstrate a perfect collaboration between nature and art. The stone slab used as support is not painted on the entire surface, therefore, its colour and patterns form an integral part of the depictions. The boundaries between the natural patterns of the stone and the artist's work are imperceptible.
The painting was not only unknown but in a severely damaged state with some pieces lost. The restoration of the painting took several years and required thorough research and the coordinated efforts of experienced restorers.
Now, the results of our work can be shown to the public.
Besides Tempesta's painting, we exhibit some goldsmith works which, just like Tempesta's painting, are examples of the fusion of an object of nature and an exceptional product of artistic talent. Like the Tempesta painting, the goldsmith works are from the former collection of Miklós Jankovich, a renowned Hungarian art collector of the early 19th century.
Curator: GÁLOS Miklós
Installation: PLANBUREAU Kft., GYÜRKY László
Graphic design: TONE
Exhibition texts: GÁLOS Miklós, KUNA Ágnes
English translation: Lara Michelle STRONG
The Museum of Applied Arts is maintained by the Ministry of Human Capacities.