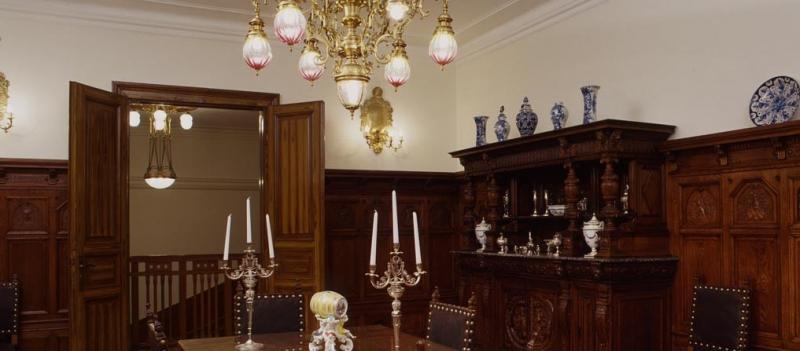 The György Ráth Villa was founded in 1907, with the intention of preserving the collection of the Museum's first director, György Ráth (1828-1905).
György Ráth died 7th July 1905, and bestowed his collection on his wife, Melcsiczky Gizella of Melcsicz, with an unlimited right of disposal. His widow fulfilled his last will, according to which his collection should be transferred to the possession of the Museum of Applied Arts: Mrs. Ráth decided to donate the objects, with the provisio to make a complete and indivisible amount under the name of 'György Ráth Museum' and be under the management of the Museum of Applied Arts. At the same time she offered her villa with all its furniture and equipment at a preferential price; only for the price of the value of the building. The real estate came into the possession of the Hungarian royal treasury; Act XIII of 1907 declared the resolution still in effect today, that the legislation established the National Hungarian György Ráth Museum, a supplemental part of the National Hungarian Museum of Applied Arts. This was also justified because at this time several Hungarian private collections had fallen to pieces and been scattered throughout the world, sometimes without a trace.

The new museum of the capital was opened to the public in 1907. The collection of the one-time director was always considered the most significant from the aspects of the augmentation of the museum, in terms of collecting, 'taste-forming' and art education. Between the two world wars, the institution worked under the supervision of the Museum of Applied Arts. Although there were attempts to abolish its independence with financial explanations, this did not happen. A great turn happened during the years following the World War II, when the collection, that was only moderately damaged and that survived the war with limited losses, was not opened. After WWII, the collection was distributed among several museums in Budapest. However, the György Ráth Villa is still maintained by the Museum of Applied Arts.
The György Ráth Villa is currently closed for visitors.