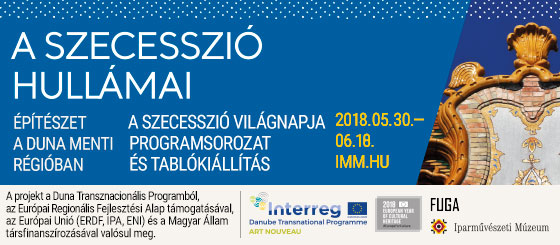 Every year since 2013, World Art Nouveau Day has been celebrated on Hungarian initiative. On this day, many institutions from all over the world join a series of events that showcase the unique art scene of the turn of the century.
This year, the theme of the World Day, proposed by Réseau Art Nouveau Network, an international organisation for the popularization of Art Nouveau, is "My favourite Art Nouveau Architect". The special event of the programme series is an international exhibition of the Art Nouveau art of the region, that can be viewed at a time by the members of the Interreg Danube Transnational Programme (Belgrade, Bucharest, Budapest, Ljubljana, Oradea, Sofia, Subotica, Szeged, Vienna, and Zagreb).
The exhibition "Waves of Art Nouveau – Architecture in the Danube Region" can be visited free of charge in FUGA in Budapest from 30 May to 18 June 2018. On the occasion of the World Day, further weekend programs, Art Nouveau city walks, guided tours in the exhibition and family sessions will be organised for the public on 9–10 June 2018.
Events
Waves of Art Nouveau – Architecture in the Danube Region
FUGA – Budapesti Center of Architecture
from 30 May to 18 June 2018
World Art Nouveau Day
Budapest
9–10 June 2018
Guided tour in Budapest (in English)


9 June 16.00 Lechner, Lajta and friends – in the footsteps of Hungarian Art Nouveau in Budapest (KÉK Urban Walks) FULL
10 June 12.00 Gems of Budapest – city walk in the spirit of Art Nouveau (Imagine Budapest) FULL
Art workshops for kids (in Hungarian)
Exhibition tour guided by the Curator (in Hungarian; Eszter Baldavári, Hungarian Museum of Architecture, art historian) FULL

The participation in all events is free of charge but subject to registration.
We reserve the right to change the program if necessary. The guided city walks will be held in case of bad weather, too.
Visitors to the event acknowledge that visual and/or audio recordings may be made of them during the event for promotion and project administration purposes. Visitors to the event acknowledge and accept that by participating in the event they consent to the Budapest Museum of Applied Arts using the personal data acquired from the visual and audio recordings and from participation in the event for the purposes and with the conditions given in the Privacy Policy. Visitors to the event acknowledge the Budapest Museum of Applied Arts will not accept any claims for compensation against it concerning the production of visual or audio recordings.
The project is realised as part of the Danube Transnational Programme, with the financial support of the European Regional Development Fund (ERDF, IPA, ENI), the European Union and the Hungarian state.


Partners:
Attachments